Venue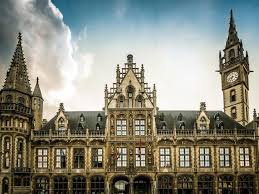 1898 The Post
Address: 16 Graslei, Binnenstad, 9000 Ghent, Belgium
Hotel Details:
Boutique hotel 1898 The Post offers accommodation in an iconic, historical building in the heart of Ghent. It is situated in the former post office.
The hotel has 37 rooms and suites that are decorated elegantly with antique furniture. They also feature high ceilings or sloped roofs. All rooms & suites offer views of the city, king-size beds, free WiFi, modern technology and luxury amenities.
Guests can come to The Kitchen to relax, work, or enjoy a nice cup of coffee. It is a shared area, with an open fireplace overlooking Ghent. The Kitchen offers an American buffet breakfast, a selection of fresh and seasonal light dishes for lunch and homemade pastries for afternoon tea.
The hotel also features a cocktail bar: The Cobbler, named after the special type of cocktail shaker. The hotel's world-class bartenders offer a creative range of cocktails, as well as a selection of fine tapas and delicacies.